Dynamic Website
[custom_frame_left shadow="on"]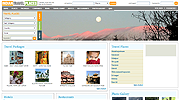 [/custom_frame_left]
T
he
current market scenario requires every business to possess a solid web presence in order to attract visitors. Simply having a website is not enough; you need to update it in line with the changes that are taking place in your business to ensure that the latest information is conveyed to your prospective and existing customers. A
static website
is good for small businesses dealing with relatively simple products and services that can be promoted without high level of interactivity. However, if your business requires you to maintain stuff like catalogues, albums or complex data series online and in turn ensure high interactivity, a
dynamic website
is exactly what you need. At
WebSolvant
, we offer you
dynamic website design
that helps you derive long term benefits at economical rates.
Why switch to dynamic websites?
It's time to give your website an edge in the online market with advanced technologies, especially when you are running a business wherein products or services are subject to constant change and require updation on a timely basis.
[custom_list style="list-1″]
Dynamic sites are database oriented and allow for easy modification of content, videos or images without depending on the webmaster.
Dynamic web design offers high flexibility, both for the site owner and the visitor.
Such websites are built with advanced technology that allow for easy crawling by search engine spiders.
It's much easier to provide customized sales information like quotes, calculations, discounts, etc to the customer.
[/custom_list]
Why choose WebSolvant?
Our dynamic web designing team comprises qualified and experienced professionals who provide you services with strict adherence to W3C standards. We build you attractive and powerful e-commerce websites, content-managed websites and so on. You get brilliantly designed customized websites with:
[custom_list style="list-1″]
Control panels that can be easily handled.
Options for displaying multiple products.
Advanced features like online shopping cart, payment gateway integration and enquiry/request a quote option.
Images, links, text that can be easily managed
[/custom_list] So, get the WebSolvant advantage and effectively reach out to your target audience with a perfectly crafted dynamic website. Call us now!