Web Analytics
[custom_frame_left shadow="on"]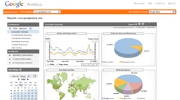 [/custom_frame_left]
W
eb Analytics
is a process of collecting, analyzing and reporting on your website traffic to understand and optimize your website. This in turn will lead to higher and more effective marketing, which propels leads and revenues. Powerful, flexible and easy-to-use features now let you see and analyze your traffic data in an entirely new way. With
Google Analytics
, you're more prepared to write better-targeted ads, strengthen your marketing initiatives and create higher converting websites.
Google Analytics can be used as a means to determine and improve the effects of a website. Along with measuring website traffic, it also functions as a tool for business and market research. Google Analytics can help organizations measure the results of their new advertising campaigns like an Adword Campaign, Print Advertising, Television Advertising, Email Campaign, SMS Campaign, etc. Thus they help the entrepreneur in understanding the traffic change once a new advertising campaign has launched. It also reports the number of visits (unique as well as total) on the website, the source of the visit, the geography of the visit, the average time a visitor stayed at the website, the pages where the visits were made, etc. This will help you in analyzing the productive and non-productive pages and products in your website. You can also set the pages where you actually sell your product and find out what is the click to conversion ratio of your website.
WebSolvant helps you in integrating Google Analytics into your website. We will keep track of all the reports, generate your custom reports and maintain your website by adding productive pages and removing the unproductive ones. Contact us at info@WebSolvant.com to add this feature into your website.