Search engine optimization
[custom_frame_left shadow="on"]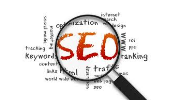 [/custom_frame_left]
S earch engine optimization is together an art and a science. The blending together of proper website building, purchasing keyword specific domains, creating search engine compatible websites and writing good original keyword specific content, are all integral parts of obtaining top rankings on the Internet. WebSolvant is the most experienced hand in the field of search engine optimization. We will research your keywords and optimize your site based on the most relevant keywords and drive relevant traffic to your site via the major search engines.
WebSolvant has proven results in the Search Engine Optimization field. We have been serving some Fortune 4000 companies and other top companies in the US. Our services are available for US, UK, EU, Australia and Middle East. Our ranking efforts have always been a tremendous success. At present, we have 100s of clients ranking for more than a lakh of keywords.
If you run an online business and coerce no traffic to search engines, your attempt will go futile. There is no use scuttling the business if there is no profit! What is necessary is a top unique placement for your site in the fast moving search engines and drive traffic. Here, WebSolvant helps you rank best, welcome traffic and increase profit.
Today's Search engines drive 85% of all first time traffic to a site. A search engine has organic and sponsored results. The organic results attract 80-90% of all search engines. Only 10 –20% will be sponsored. You definitely have to come in the top list of the organic results to attract traffic, rather the most targeted traffic. The reason is the visitors of organic results will be keen to buy products. Therefore, you have to attract them as best as possible and this is likely to happen only when you top the list. WebSolvant's effective role comes here. WebSolvant assures the highest ROI for all the projects.
The primary search engines are Google, yahoo and MSN. They handle 92% of all Search Engine Traffic.
WebSolvant does 3 types of optimization:
[custom_list style="list-1″]
Full Optimization
On-page Optimization
Off-page optimization
[/custom_list][divider_top]