Font Development
[custom_frame_left shadow="on"]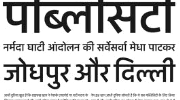 [/custom_frame_left]
I t is a known fact that how a business represents itself in visual form, plays a vital role in attracting traffic. Font is an indispensable unit of the visual imprint a business makes on customers. At WebSolvant, we develop a variety of fonts for the English language as well as a number of vernacular ones, designed in a manner that reflects your company character. A children's website would have colorful playful font types and font developed for corporate use would be strong yet elegant. We are very conversant with Adobe's font development kit and make our own fonts and scripts.
Our Font Development Services
Porting Of Fonts
The existence of a variety of encoding standards led to a risk of data corruption when information was passed between platforms that adopted different encoding standards.
With this emerged the need for a consistent encoding and representation of text, unicode. We perform font porting from non unicode platforms to unicode, allowing people all over the world to view the same content in any language. We perform effective software internalization and font porting from one language to another by making use of Unicode's freely available data form and specification.
Developing New Fonts
Fonts can change the mood and flavour of a piece of text. There are thousands of fonts already available for different operating systems for display on print as well as the web. We develop in house fonts using font development tool by Adobe, designing and developing them in a manner that imparts singularity to our clients' business. Be it for a product poster or a marketing theme, the right font can tie all the pieces together. This is exactly what we do at WebSolvant, we analyze, design and create fonts that lucidly convey the message.
Enhancing Fonts-glyphs
Playing with fonts is an art and we at WebSolvant are proud to have attained distinction in it. Apart from an already existent pool of fonts, we have also developed thousands of fonts from scratch. But many a times, it is only an enhancement to a glyph that does the trick. We possess an acute understanding and technical know how of enhancing glyphs. There is a time and place for every kind of font and even minor changes like font spacing and extra overhead dots can alter the appearance of a text.
Font Development for Different Verticals
Font Development for Mobiles
We follow a "keep it crisp" principle while developing fonts for the mobile platform. Mobile usage entails that the font used be of a readable size and user friendly appeal, short sentences with big bold fonts catch the eye of a mobile user. While developing fonts for mobile businesses, our font developers choose easy to read standard fonts and enhance them as per client specifications. maintaining a difference in font sizes making users access mobile content with renewed interest.
Font Development for Web
The kind of font used on a website can make or break a user's impression. If a business dealing with enterprise software solutions uses a casual comic font or a gaming site uses dark monotonous font, the viewers will not really feel connected to the content and its context. We assess client goals and their business objectives in great detail before deciding on a font for them. We choose and enhance upon the most apt font for a business which makes its website enjoyable, readable and beautiful.
Font Development for Print
Ever since the letterpress era when printed material began gaining importance, the likability of words became a big deal. At WebSolvant, we maintain that selecting the right font for printed material can help the business, not only in terms of making the content likable for intended readers but also for promotional and advertising purposes. We develop fonts for a variety of purposes ranging from brochure covers to product handouts. As per the business disposition, our fonts take different forms, all being legible yet attractive.
[divider_top]