Facebook Application Development
[custom_frame_left shadow="on"]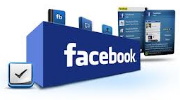 [/custom_frame_left]
W e are a leading and fastest growing Facebook Application Development Company who has already helped significant number of clients to take the best mileage of Facebook. Our clients has capitalized the advantage of our knowledge to develop innovative Facebook Application. We provide you with a complete solution for designing, developing, launching, marketing and monetizing your application.
Facebook is the new invented application trend to make money through online. The industry of social networks has grown in recent years giving way to investors to gain by developing their applications and their use for commercial purposes. Currently, Facebook stands as the largest vast social networking platform that has an open opportunity for application developers to use their applications for commercial purposes, such as electronic commerce and advertising.
We are application developers for Facebook providing social media solutions from a global team of expert developers. Our creative development process allows to create a Facebook application development, mobile application or provide Fan page development to help you gain the competitive edge. There are a variety of Facebook application types that can be used to interact with and engage customers. Our Facebook application developers create a wide range of popular Facebook application development company in India.
WebSolvant provide the following Facebook Application Development services:
[custom_list style="list-1″]
Facebook application development
Facebook dating apps
Unique and catchy designing of your Facebook application
Facebook application listing in Facebook application directory
Marketing your application to the millions of users of Facebook
[/custom_list]
Building an application on Facebook gives you the opportunity to deeply integrate into the core Facebook experience. Your app can integrate with many aspects of Facebook.com, including the News Feed and Notifications. All of the core Facebook Platform technologies, such as Social Plugins and Platform Dialog are available to Apps on Facebook.com.
To know more about this customized service of WebSolvant. Contact to us, please click here.
[divider_top]